At Axpe Consulting we have been committed to helping our clients transform their business and processes for several years. This transformation would not be possible without the new technologies that appear on the market every day and that make it possible for jobs that were previously carried out today to be done in hours or minutes.
One of these technologies is RPA (Robotic Process Automation). As defined by Wikipedia "RPA is a nascent form of business process automation that replicates the actions of a human being interacting with the user interface of a computer system".
Thanks to RPA, businesses are now able to automate processes that they have not been able to optimize to date through the application of traditional IT. In many cases, this traditional IT was only capable of automating part of the process since it focused on the evolutions to be carried out in a specific application (such as SAP) while RPA allows this automation to be applied to several applications at the same time since it does through the user interface, just like a normal user would do, which makes it possible to automate processes that, for example, start in an ERP (SAP, Microsoft Dynamic, …) and continue in Excel and then end with a shipment of mail.
Below you can see a real example that Axpe has automated for one of its insurance clients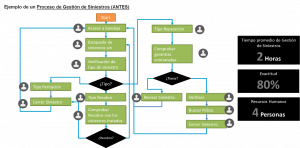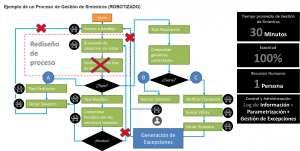 As can be seen in this example, one of the main advantages of this technology is the reduction in execution time and accuracy. This reduction in time logically entails a reduction in the number of people necessary to carry out the necessary steps. It is now the task of large organizations to have the objective and aspiration of assigning activities of greater value to people who no longer have to carry out the process and not only seek a reduction in headcount.
Additionally, RPA has another series of advantages, such as the fact that it is a non-invasive technology (because it acts as a normal user would) and that it provides analytics and process control that allows informed decisions to be made about possible improvements. of the operation of a business.
This technology has been on the market for many years, but it has not been until a few years ago that it has reached the degree of maturity necessary to be able to be implanted with solvency and guarantees in customers. Axpe Consulting has taken advantage of this degree of maturity to incorporate, for several years now, RPA as part of its portfolio of services and bet heavily on it.
Proof of this is the creation of the RPA Expert Center, which has top-level professionals with extensive knowledge in this field. These professionals are capable of analysing, together with our clients, the main business processes of a multitude of sectors and detecting improvements and optimizations on them at the same time that they are capable of seeing and evaluating the suitability of automation with RPA. In addition, they have knowledge of the main tools that allow this technology to be applied (UiPath, Blueprism and Automation Anywhere) to develop the algorithms and functionalities that allow the robot to execute the process automatically and autonomously.
The clearest example of the success of this expert center, and of its professionals, is the multitude of clients whom we are already helping to automate their processes and improve their daily operations. These clients are all top-tier clients in their sectors and are an example of how, little by little, the third industrial revolution is getting closer (if it is not already a reality).